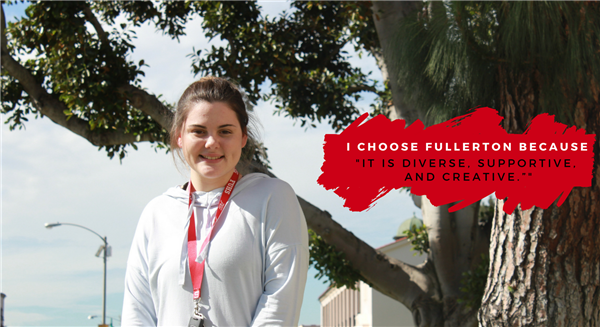 Emma Kremer

"I choose Fullerton because they provide a nurturing, exciting environment in which I am amble to excel in academics and express my creative ideas."

Senior Emma Kremer is an active member of the Triple Threat program and National Honors Society and California Scholarship Federation. She demonstrates her leadership skills as the president of both Vocal Ensemble and Tri-M Music Society and the Costume Shop Manager of the Thespians Club.

Kremer learned to manage her activities in an efficient manner here, and is now able to excel in all areas.

"Fullerton has definitely taught me to manage my time wisely. Being a part of many programs at school, I have learned to use every chance I have to complete my homework, study for tests, and work on projects."

"Fullerton has provided a rigorous selection of academic classes along with enriching elective options," Kremer said.

Although she finds herself busy with these programs, she juggles five AP/IB classes and has been in the Top 25 students every year.

"Academic success if very important to me. I believe that if one excels in school, they are setting themselves up for success in the real world. Overall, academic success in high school will help one get into a good college which will help them obtain a good job."

Kremer thanks her former AP U.S. History teacher Mr. Shanebeck for challenging her the most.

"The class taught me to never procrastinate and to manage my time wisely. In addition, the homework load (and how it was assigned) followed that of a college course. This will help me as when I take classes in college," Kremer explains.

Kremer hopes to attend a UC school or Chapman College to pursue either Theatre Arts or Education.