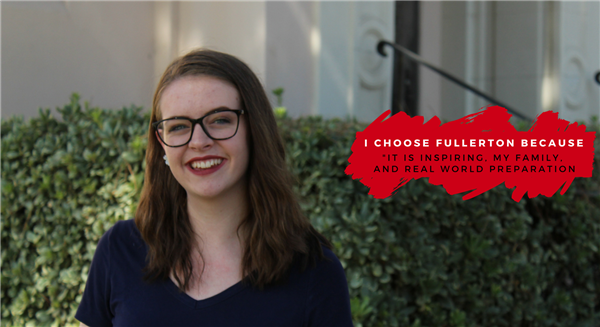 Abigail Lange

"I choose Fullerton because I wanted the best experience for the passion I wanted to pursue."

I choose Fullerton because it is "inspiring, my family, [a] real world preparation."

Junior Abigail Lange, Triple Threat and Academy of the Arts student, has been involved in theatre for as long as she can remember.

In hopes of growing as a choir, theatre and dance student, she decided to attend Fullerton for its extremely strong performing arts program. Lange is also involved in the Tri-M Music Honor Society and Thespian Troupe 2498.

"Being in IB Theatre, Vocal Ensemble and Dance Production has proven that this pathway is truly an integrated program."

Lange credits much of her success in the Triple Threat Pathway to Mr. Michael Despars.

"Mr. Despars has been my mentor since day one. Since I am heavily involved in the Triple Threat Pathway, he and I have worked closely together for the entirety of my time in high school. I have learned how to be a responsible student and a productive team member from him, along with being a leading role model."

Lange also recommends students to attend Fullerton, not only for its outstanding Triple Threat programs, but for its rigorous and supportive academic programs.

"Fullerton High School has prepared me by offering advanced courses and equipping me for higher level thinking. Academic success is extremely important to me because I believe in challenging myself and striving for excellence. As I am working hard in my studies, I am preparing myself for my future as a productive member of society."

She thanks AP/IB English Language and Composition teacher Mr. Leonardo Indelicato, for challenging her to be independent, open minded and quick witted.

"He inspires his students to become 'culture watchers,' active listeners to the world around us, so we can present ourselves in an intelligent manner."

Lange hopes to attend New York University and major in musical theatre with a minor in American Sign Language, using knowledge she gained at Fullerton to thrive in her future academic career.