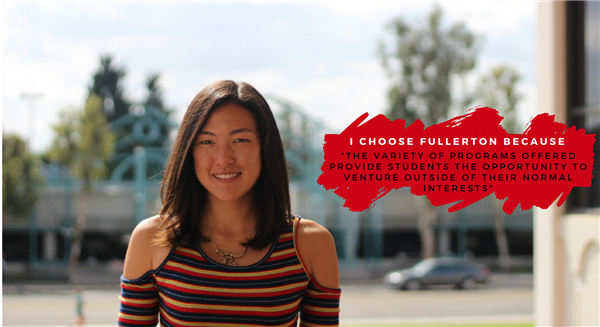 Emily Brezarich

"I choose Fullerton because its variety of programs provides students the opportunity to venture outside of their normal interests."

For senior Emily Brezarich, FUHS allowed her to weave her athletics and her creativity for the past four years. Brezarich runs cross country and track, participates in the unique B.E.A.S.T. program and is the Editor in Chief for the Tribe Tribune (the school newspaper) while also managing AP/IB classes.

"From my experience, immersing yourself in a subject gives you a clearer idea of what you want to pursue after high school," Brezarich said. "Fullerton has given me countless opportunities to improve myself academically."

"The teachers here are passionate about what they do, which keeps me engaged during class. AP/IB and Honors classes have definitely prepared me for the future."

The teacher that challenged Brezarich the most, however, was Mr. Leonardo Indelicato, the AP/IB English teacher. She credits him for maturing her work ethic and how Indelicato prepared her for future AP/IB classes.

"I was lucky enough to have Indelicato again my junior year, for AP Lang[uage]. He found a way to incorporate fun variations of projects into the whirlwind of surprise essays, which made the class even more enjoyable."

Brezarich has been in journalism for all four years. Former journalism teacher Kimberley Harris guided Brezarich her first two years of journalism, eventually leading to Brezarich becoming the Editor-in-Chief.

"Being a shy kid, it was challenging to go out and interview complete strangers, but it's paid off. She made sure that I was always involved in something, and encouraged me to continue taking journalism with the goal of becoming Editor-in-Chief. I am so grateful to her for pushing me outside of my comfort zone, forcing me to meet new people and become involved, and encouraging me to always seek to improve," Brezarich said.

Regarding sports, joining a four year program was vital because the relationships she built through cross country are special to her. Brezarich feels lucky to have found a place not in just one program but multiple.

"Committing to a sport for four years is especially rewarding, as it not only gives you a supportive family, but a determined mindset that will help you in nearly every aspect of life."

"I believe there's a place for everyone at Fullerton. You just have to find what you're passionate about. I'd encourage everyone to take a step outside of their comfort zone and join a program you think you'd enjoy, even if you don't know anybody," Brezarich said.

Brezarich hopes to attend Cal Poly San Luis Obispo to earn an Animal Biology degree and pursue a career as a veterinarian.