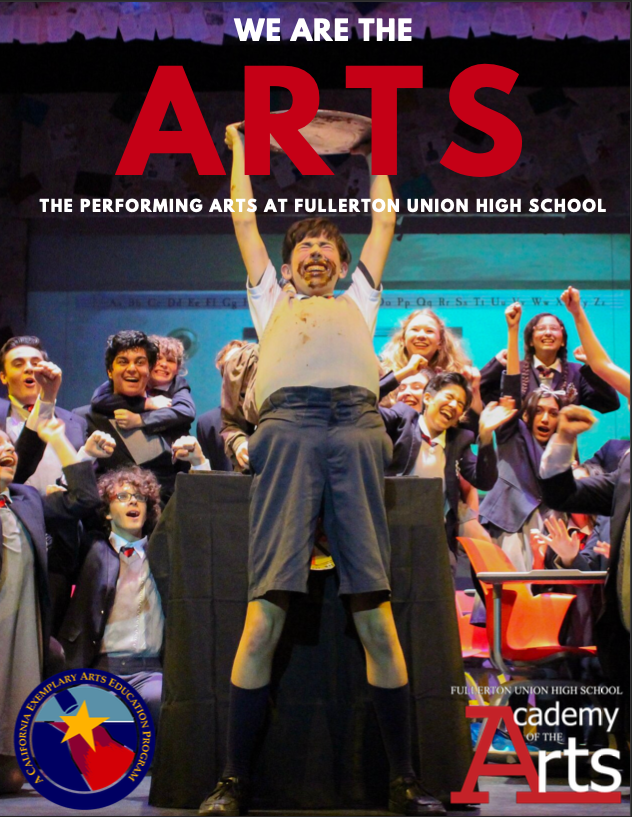 Fullerton Sings! Fullerton Acts! Fullerton Marches! Fullerton Dances!

The Performing Arts are a vital and active part of Fullerton Union High School. Classes are offered in Vocal Music, Instrumental Music, Theatre, and Dance. Many diverse opportunities for students to perform are provided and include our concert season in Plummer Auditorium, competitions and festivals for groups and soloists, community events, and performance tours.

Our Performing Arts Department has four credentialed faculty members and many adjunct faculty who are all committed to furthering the excellence of Performing Arts education at FUHS.

We believe all students have a right to a creative education and we value collaboration, creativity, professional development, consistency, inclusiveness, and the power of freedom of expression.
Performing Arts
There is a Place for Everyone in the Performing Arts at FUHS!

Whether you want to spend an hour a day singing, playing an instrument, acting, or dancing, or you wish to have an arts enriched four years at FUHS, we have the programs for you!

The Performing Arts Disciplines

Dance - Beginning Dance, Intermediate Dance, Advanced Dance, and Dance Production
General Music - Beginning Band/Instrument Study, Piano class and Guitar class
Instrumental Ensembles - Marching Band and Colorguard, Concert Band, Jazz Ensemble/Lab Band, Indoor Percussion (Drumline), and Winterguard
Theatre - Theatre 1, Theatre 2, Theatre 3, IB Theatre 1, IB Theatre 2, and Theatre Technical Production
Vocal Music - Bass Chorus, Treble Chorus, Bass Ensemble, Treble Ensemble, Vocal Ensemble and the Fullerton Acapella Project

In addition to the above course, we also offer a variety of AP and IB Courses in the performing Arts including

Honors Courses - AP Music Theory and IB Theatre

Special Programs

Academy Programs

Students may elect to be an Academy student in one or more areas of study. Master classes, workshops, and field trips help to enhance the experiences. All Academy Completers are featured in a special Academy Showcase at the end of the school year and receive a cord of distinction to be worn at commencement.

Triple Threat Performer Pathway

Students are enrolled in a special program that includes instruction in vocal music, theatre, and dance all four years of their high school experience. The "T3s" receive a wide range of instruction and opportunities that prepare them for real world of the Performing Arts following high school. T3s are also Academy Completers and receive a distinctive tri-color cord to wear at commencement.
Fullerton Union High School is a

California Exemplary Arts School!