La Vista General Information
La Vista High School (LVHS) was established in 1966 as Fullerton Joint Union High School District's continuation high school and is an integral part of the District. In 2017, LVHS received a six-year term of accreditation from the Western Association of Schools and Colleges. The population is comprised of students at least 16 years of age who are at-risk of not graduating with their class as well as high school aged students participating in the Teenage Pregnant and Parenting Program (TAPP). The student body represents the District's six comprehensive high schools and an alternative high school from a fifty-square mile area which includes the cities of Buena Park, Fullerton, La Habra, and parts of Brea and Whittier. LVHS serves a predominantly Hispanic population. According to DataQuest, the school's 2017-2018 student population was identified as 79.9% Hispanic, 9.8% White, 3..% Asian, 3.3% African American, .8% Filipino, 1.4% American Indian, 1.1% two or more races, and .3% not reported.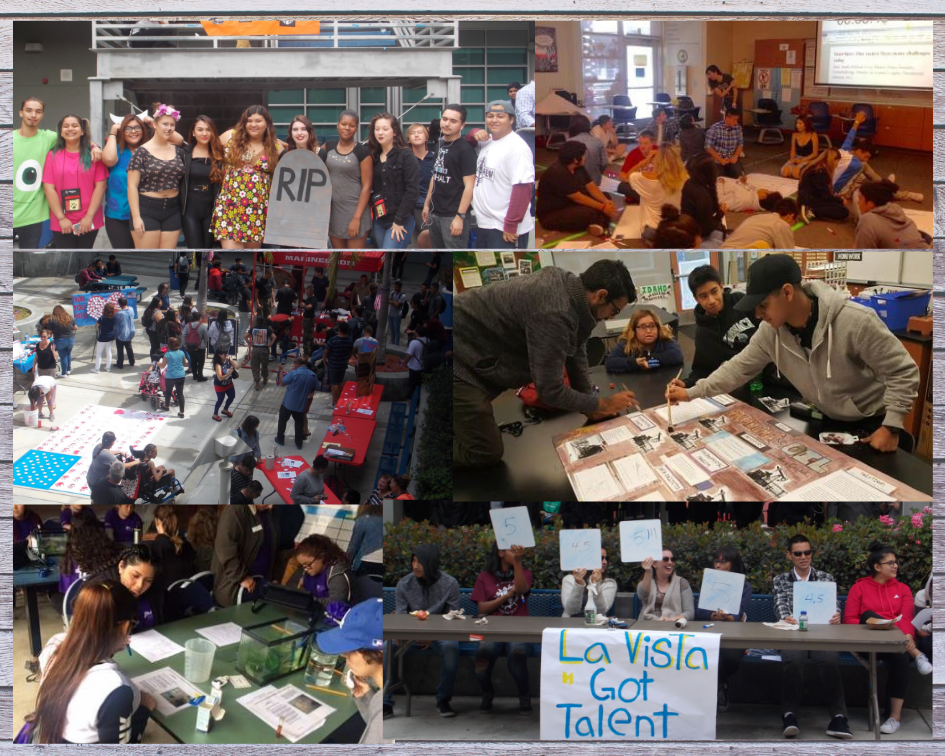 The LVHS master schedule includes all courses needed to meet the District's graduation requirements. Through the use of research-based, data-driven instruction, curriculum, and assessment, content area teachers are able to identify areas of academic needs to target instruction to increase student achievement. Students have the opportunity to take up to eight classes daily and also may enroll in Regional Occupational Program (ROP) course(s) during the school day, late afternoon, evenings, or Saturdays. Students have the option of graduating from LVHS or, if sufficient credits are earned, returning to one of the District's six comprehensive high schools for graduation. Additionally, LVHS serves special education students, pregnant and parenting students and fifth-year seniors.

La Vista High School works with a wide array of partnerships within the local community. Examples of these partners are: North Orange County Regional Occupational Program (NOCROP), Fullerton Loves Orange County Kids (FLOCK), Fullerton Community College, the Fullerton Assistance League, the Alternative Parent Teacher Association (PTSA), Adult Education Block Grant (AEBG), the Fullerton Collaborative, the Parent Institute, and the Fullerton Sunrise Rotary Club. In addition, representatives from Women, Infants, Children Program (WIC), Fullerton Needlework Guild, La Habra Resource Center, Anaheim Resource Center, Orange County Department of Education Quality Start OC -QRIS program, Adolescent Family Life Program (AFLP) and Cal State Fullerton University Intern Program provide support for the students in the Teenage Pregnant and Parenting Program.

Staff Description

In 2017-2018, the staff of La Vista consisted of 20 classroom teachers, 1 ROP teacher, 2 counselors, 1 guidance technician, 2 assistant principals, 1 principal, a school secretary, a data technician, 3 senior records clerks, 2 custodians, 1 campus supervisor, 4 instructional aides, 9 child care workers and 3 District-employee food service workers. Support staff includes 1 full-time and 2 part-time psychologists, 1 full-time and 1 part-time speech and language pathologist, a school nurse, a 40% EL/Community Liaison and 1 computer technician who works from the District. La Vista also has the support services of a Fullerton Police Department school resource officer, who is shared with two other high schools.

School Purpose

La Vista High School is a credit acceleration continuation high school program. LVHS students are behind in credit and at risk of not graduating on time. They range in age from 16 to 19. In addition, high school age students participating in the Teenage Pregnant and Parenting Program attend LVHS. Students are referred to LVHS by one of the District's comprehensive high schools, the Orange County Department of Education ACCESS/Horizon, or Otto Fisher (the school operated in Orange County Juvenile Hall) because of credit deficiency in required courses or because of pregnant or parenting status.

LVHS offers all the required courses for graduation in the District. The flexibility in class scheduling enables students to work at the pace outlined in their individual learning plans. The goal of LVHS is to facilitate students in an accelerated learning environment allowing them to catch up on their credits and graduate on time from either the comprehensive school or from La Vista. Supports in place to achieve this goal include having a small campus culture, small class sizes, increased access to counselors, commitment of staff members to helping students achieve success, and instructional aide support in reading and math intervention, and special education classes. Social/emotional support is also available to improve student outcomes through the use of Restorative Circles and Restorative Practices instituted in 2015 by trained staff and expanding school wide by 2017. Restorative Circles are practiced school wide once a week during fifth period classes. Staff are highly trained and dedicated to implementing the 12 Highly Effective Instructional Practices, EL Strategies, and Instructional Technology Applications to support student learning.