La Sierra High School (LSHS) was established in 1980 as Fullerton Joint Union High School District's alternative high school. The school serves the needs of high school age and Adult Transition Program students. In 2017, LSHS received a six-year term of accreditation from the Western Association of Schools and Colleges and the Adult Transition Program received a Golden Bell Award from the California School Boards Association. In 2018 the Adult Transition Program was honored with the Grazer Outstanding Achievement Award (GOAL) from the California Advisory Commission on Special Education. According to DataQuest, the school's student population in 2017/18 was identified as 68.4% Hispanic, 13.5% White, 8.8% Asian, 5.1% African American, 2.1% Filipino, .5% American Indian, .7% Pacific Islander, and .9% two or more races.

LSHS is an integral part of the Fullerton Joint Union High District. The District covers a fifty-square mile area serving the communities of Buena Park, Fullerton, La Habra, and La Habra Heights as well as portions of Anaheim, Brea, La Palma, Placentia, and East Whittier. The feeder elementary districts are Buena Park, Fullerton, La Habra and Lowell Joint. The Fullerton Joint Union School District operates six comprehensive high schools (Buena Park, Fullerton Union, La Habra, Sonora, Sunny Hills, and Troy), a continuation high school (La Vista), and an alternative high school (La Sierra). The District serves a varied socioeconomic population and is governed by an elected five-member school board.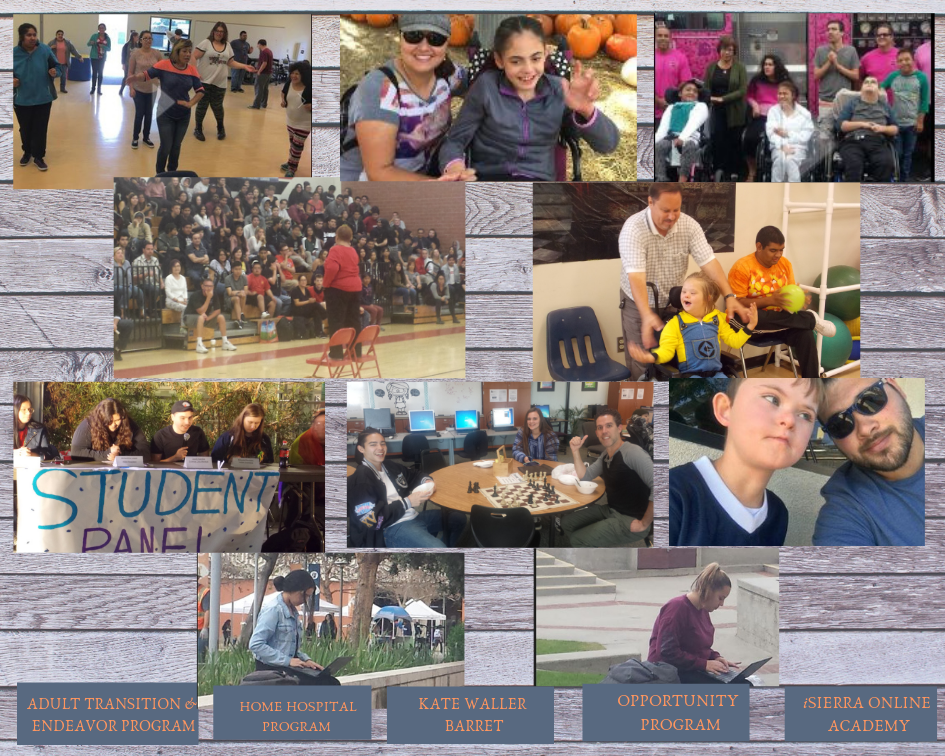 La Sierra High School works with a wide array of partnerships within the local community. Examples of these partners are: North Orange County Regional Occupational Program (NOCROP), Fullerton Community College, the Fullerton Assistance League, and the Sunrise Rotary Club. In addition, more than 30 local business provide opportunities for the students in the Adult Transition Program to practice their vocational skills.

Staffing

In 2017/18 the staff of LSHS consisted of 31 classroom teachers, 1 ROP teacher, 1 counselors, 1 guidance technician, 2 assistant principals, 1 principal, a school secretary, a data technician, 3 senior records clerks, 2 custodians, 1 campus supervisor, 52 instructional aides and 3 District-employee food service workers. Support staff includes 1 full-time psychologist and 2 part-time psychologists, 1 full-time and 1 part-time speech and language pathologist, 1 nurse, 3 LVNs, a 40% EL/Community Liaison and 1 computer technician who works from the District. La Sierra also has the support of a Fullerton Police Department school resource officer who is shared with two other high schools.

Programs and Student Support Services

La Sierra serves students through six different programs:

1. Opportunity classes are designed for tenth grade students who are behind in units. Students attend school in a small-class setting with a cohort of other Opportunity students at the main LSHS campus. The program is designed to help students get back on track by providing intervention classes in math and reading to fill in any educational gaps which may be causing him/her to fall behind in units. In addition, the program provides smaller class sizes, and more counselor support than offered at the comprehensive high school. Finally, each student in the program attends a daily study skills course called Academy designed to strengthen organizational, communicative and emotional skills. The Academy class is also designed to target poor attendance and not adjusting well to academic and/or behavioral expectations of the comprehensive high school. There is also time allotted during Academy for students to work on assignments and receive tutoring. Students can receive additional tutoring by attending the lunchtime tutoring program offered daily in the La Sierra library.

2. Independent Study is a voluntary alternative learning experience with instructional value equivalent to a regular classroom program. Independent Study utilizes APEX online curriculum which allows students to learn and interact with their instructor in a virtual setting. Students meet face-to-face with their instructor at least once a week for an individual appointment to review progress, answer questions and take assessments.

3. Home Hospital is a program for students who are medically identified as not being able to attend regular school. Teachers are sent to the home or hospital setting to provide instruction. The goal is for Home/Hospital students to stay on pace to graduate or to meet the goals of their individual education plan.

4. Endeavor is a program for high school students on individual education plans focusing on functional academics. Endeavor students receive services that may include, but are not limited to, adaptive physical education, assistive technology, occupational therapy, speech and language therapy, and counseling. After finishing the program Endeavor students receive a certificate of achievement.

5. The Adult Transition Program serves 18 through 22 year-old students on individual education plans. Students learn valuable vocational, mobility, community, social, and independent living skills in a community-based instruction model. The goal is to enable Adult Transition Students to function productively in the community to the best of their abilities.

6. The Kate Waller Barrett Academy serves female students in residential placement at the Crittenton Foster Care Assisted Living Community. Instruction is centered around reading and math intervention curriculum, APEX online curriculum for individualized credit production, Physical Education (PE), and English Language Development (ELD) curriculum for students with developing English language skills.