Return to Headlines
Dear Raider Families,

Please see the information below regarding Orientation days and times. Please be mindful of the following:

1) Data Confirmation must be completed (and Emergency Information brought with you) before any students will be permitted to go through Orientation. Please click on the link below for a tutorial on completing Data Confirmation.

Aeries Data Confirmation

2) Students must attend Orientation according to their assigned grade level. If you cannot attend on your assigned day, you will need to take care of any tasks on the first day of school.

3) A map of stations and routes will be sent out closer to Orientation. However, by visiting the QR Codes below, you can expedite the time you are here on campus by advancing past these stations. Please note only Gold and Blue Packages are available for online purchase at this time. The Raider Card, as well as parking permits, Chromebook insurance, etc., will be available for purchase during Orientation.
On your assigned day, enter the Upper Commons through the entrance located near the small gym (facing Palm Street). The following stations will be visited in this exact order:
Submit Emergency Cards and/or Complete Data Confirmation.

Submit/Collect important forms.

Submit forms for free or reduced lunch and/or obtain lunch program clearance.

Complete registration information for PTSA.

Purchase ASB items - You may purchase a special package designed for your class, which will include discounted pricing for items such as yearbooks, class sweatshirts, etc. Please refer to the Orientation Day Packages flier (coming soon) for pricing of the packages and separate items. Parking permits may also be available for purchase.

Pick-up photo card for South Coast Photographic to take your picture.

Receive your class schedule.

(Optional) Speak with your counselor to discuss concerns about your class schedule.

Take your ID/Yearbook photo.

Get your textbooks from the library.

(Optional) Select your locker (locks may be purchased on-site for $8.00 through cash/Zelle/credit card).
Payments can be made by cash, check, or credit card (3% transaction fee)
Checks should be made payable to Sonora High School (does not apply to locks)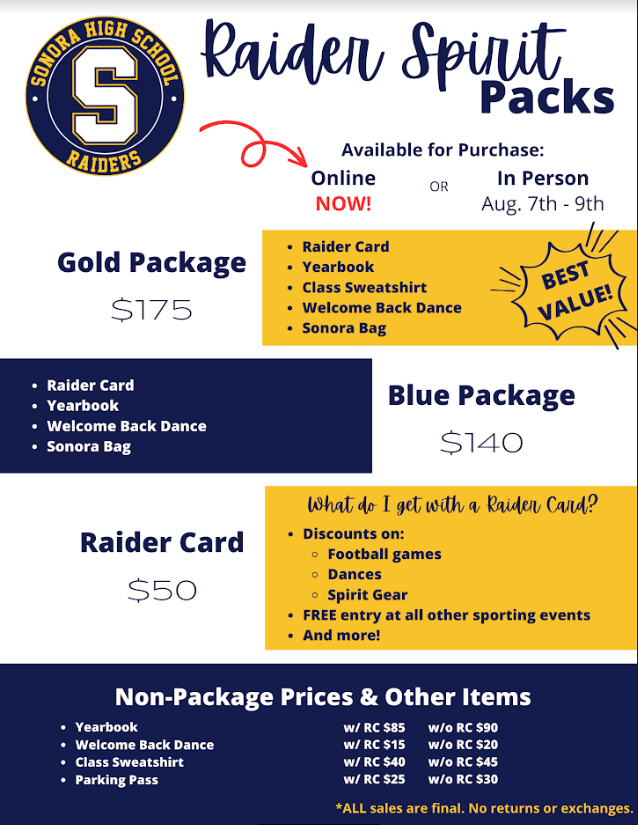 Los días de orientación son una oportunidad para que los estudiantes vengan a la escuela de preparatoria de Sonora para completar los papeles necesarios que preparará a los estudiantes para comenzar el primer día de clases el 14 de agosto de 2023. Todos los estudiantes deben presentarse en la escuela el día designado durante los períodos de tiempo que se encuentran a continuación. Esta será su primera oportunidad de ver su lista de clases de otoño, obtener sus libros, conseguir un casillero, comprar paquetes de ASB y tomarse su foto de identificación/ foto para el anuario. Para ayudar a que el proceso se desarrolle sin problemas, asegúrese de llevar todos sus documentos con las firmas necesarias y los pagos necesarios. Asegúrese de visitar nuestro sitio web para obtener más información… y seguirnos en nuestras redes sociales!
Todas las fechas: 8:30 am - 11:30 am
(Los estudiantes serán atendidos por orden de llegada)
En su día asignado, ingrese al área común superior a través de la entrada ubicada cerca del gimnasio. Lo siguiente debe ser atendido en este orden exacto:
Entregar tarjetas de emergencia y la confirmación de los datos.

Entregar los formularios para el almuerzo gratis o de precio reducido o obtener la autorización del programa de almuerzo. Entregue los formularios de almuerzo a Servicios de Alimentos

Información de registro de entrega para PTSA.

Comprar artículos de ASB: puede comprar un paquete especial diseñado para su clase, que incluirá precios con descuento para artículos como anuarios, sudaderas de clase, etc. Consulte el folleto de Paquetes de orientación para conocer el precio de los paquetes y de los artículos separados. Los permisos de estacionamiento estarán a la venta.

Recoger la tarjeta para que el fotógrafo tome su foto.

Recoger el horario de clases.

(Opcional) Hablar con un consejero para hablar de asuntos sobre el horario de clases.

Tomar su foto de identificación / anuario.

Recoger libros de la biblioteca.

(Opcional) Elegir el casillero. (podrán comprar cerraduras por $8 y pagar en efectivo, Zelle, y tarjeta de crédito/débito)
Podrán pagar en efectivo, cheque, o tarjeta de crédito/débito (3% tarifa por transacción)
Cheques deben ser al nombre de: Sonora High School (no aplican para cerraduras)
Si no puede asistir a esta importante actividad, debe ocuparse de estos pasos después que empiece la escuela en agosto. Después de que terminen las fechas de orientación, no podrá hacer compras hasta que la escuela vuelva a estar en sesión. Nadie más puede encargarse de estas tareas por usted y no se pueden encargar de ella antes de las fechas de orientación.