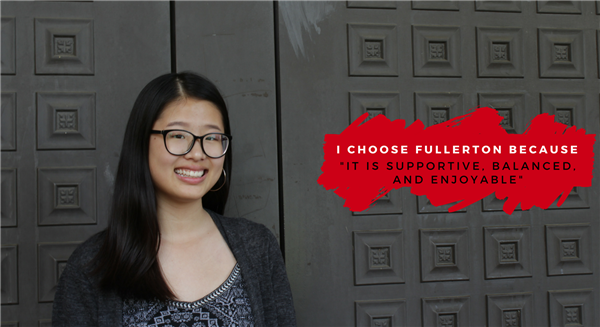 Alice Chun

"I choose Fullerton because it is supportive, balanced, and enjoyable."

"I choose Fullerton because of the vast array of academic and extracurricular programs offered and the supportive staff who encourages a balance of all aspects of high school."

Junior Alice Chun is a member of both Fullerton Union High School's Speech and Debate program and Dance Production for the past three years, as well as an avid member of the AP/IB/Honors Program. She is an officer in National Honors Society/California Scholarship Federation, as well as an officer in STEAM Club.

Chun attends Fullerton because of the academics that teaches her to thrive elsewhere.

"I have a firm belief that academic success is the basis for success elsewhere. Though everyone has different definitions of success, one must have a determined work ethic to be 'successful.' Dedication and persistence can be demonstrated through things such as grades."

As for her extracurriculars, Chun accredits head Speech and Debate coach Pricilla Merritt for her success in speech and the idea that all the memories made are worth the pressure.

"Speech and debate has taught me about teamwork, effort, and my individual character development.

"Ultimately, if you genuinely love the activity, commit yourself for four high school years. Not only will you be able to indicate it on college applications, but the activity will teach you valuable lessons about time management, prioritization, and much more."

She committed to the four-year programs because of her previous experiences in speech and debate and dance, and she was confident that Fullerton would be supportive of her desire to pursue both activities.

Chun hopes to attend UC Berkeley, John Hopkins, Stanford or an Ivy League to earn a master's or doctorate in public health and policy studies.